Forester's Inn becomes Foresters' Kitchen and Terrace - Updated 18th January 2019
Forester's Inn has reopened as Foresters' Kitchen and Terrace. As well as an updated look and feel, you'll find a new menu featuring the best of British produce for breakfast, lunch and dinner with meats from British Red Tractor approved farms and locally sourced cheese on our dessert boards. If that's not enough, you can try our immense Sunday roasts or treat yourself to a Paul Hollywood Afternoon Tea (there's even one for little ones to enjoy too!).
Aqua Sana Longleat Forest is having a makeover - Updated 4th December 2018
From now until November 2019, we'll be carrying out extensive work in order to bring you a breath-taking, revolutionary new Spa in the forest.
We appreciate that there is never an ideal time to carry out such work but don't worry Aqua Sana will remain open during this time and all treatments will be available. We'll be doing our best to minimise disruption but there may be occasional noise, particularly in the early months of the project. The most extensive works will take place from 28th January until 11th November 2019 and during this period there will be some reduction in spa facilities.  We will be monitoring capacity to ensure we offer the most relaxing spa experience possible.
If you visit during the extensive works period (28th January to 11th November), you will receive a £10 voucher on arrival to thank you for your patience.
Please keep checking this page for all the latest updates on this very exciting new project.
Locked in a Room comes to Longleat Forest - 6th August 2018
Put your puzzle and clue solving skills to the ultimate test in a unique escape room experience for groups of three to six. Locked in a Room at the Village Square is a fun activity where you join forces with family and friends to attempt to solve clues and escape the room. With two different experiences to choose from, get your team together to become respected scientists seeking to uncover secrets and escape the room in 60 minutes or less.
Aerial Adventure Enhancements - 23rd July 2018
We've added some exciting new obstacles to our Aerial Adventure course.
Are you brave enough to tackle the Tree House and Floating Staircase in this adrenalin packed challenge high up in the trees?
Newly refurbished and new menu at Huck's American Bar and Grill - 18th July 2018
We're always trying to improve our facilities so that you have the best break possible, which is why we have cooked up something special at Huck's American Bar and Grill at Longleat Forest. The stateside diner has had a fresh new look and is now open and ready to serve some of the mouth-watering recipes that we have introduced to our new Huck's menu.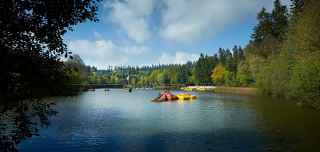 Forest Safety - 28th June 2018
As you will be aware, we've had an extremely dry spell recently and following information from the Met Office, we would like to highlight some basic fire safety points:
Smoking is permitted only in designated smoking locations on village and on the patio/ balcony of accommodation
The use of wood from the forest is strictly prohibited for use on the fire in accommodation (please only use logs purchased from ParcMarket)
The making of fires of any sort is strictly prohibited
Should you discover a fire no matter how small, please contact the village emergency number or call 999
We do have regular fire checks in place but please be vigilant and help us to maintain a safe environment in the forest.
AquaParc opens at Longleat Forest - 20th June 2018
Bounce across bubbles, balance across beams or zoom down the dual slide into the water with all-new AquaParc at Longleat Forest.  With a variety of obstacles there's a challenge to suit all your friends and family. So whether you jump, splash or climb your way to the end, this is a session full of fun.
Off-Road Explorers comes to Longleat Forest - 16th May 2018
See your little ones don their tweed flat cap and get behind the wheel of a miniature 4x4 in our new Off-Road Explorers at Longleat Forest. With you by their side, they'll navigate around our bespoke track, tackling rough terrain and rumble strips, collecting puzzle pieces as they go.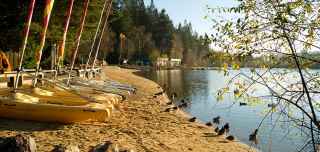 Fresh look for the Pottery Painting Studio - Updated 5th April 2018
Pick up a paint brush in our new look Pottery Painting Studio at Longleat Forest. With a contemporary revamp, it is the perfect inspiration for your latest masterpiece.

Hello Sports Plaza - 20th March 2018
We are improving Jardin des Sports by changing the look, the environment and its name! After Monday 16th April you'll start to notice a few changes to our newly refurbished and named Sports Plaza. Even with a fresh new contemporary look, all activities, restaurants and shops will be in the same place.
Please be aware there may be some crossover on our maps as we swap Jardin des Sports to the Sports Plaza.
Football Pool arrives at Longleat Forest  - 21st February 2018
Challenge your family and friends at Longleat Forest to a game of Football Pool. Step onto the giant 12ft pitch and swap the cue for your feet and aim to score the footballs into the pockets. Whether you're spots or stripes, the competition is on. Head over to the Jardin des Sports to kick off your game.

A new look for Treats  - 21st February 2018
Treats at Longleat Forest has changed to have an interior to match the colourfulness of the sweets. From fudge to pick and mix and every sweet or chocolate treat in between, it's the perfect place to go if you've got a sweet tooth.  
All-new Subtropical Swimming Paradise rides now open - Updated 21st November 2017

After months of hard work and anticipation, our new water rides and water play areas are now open.
Test your limits on Tropical Cyclone, a two- or three-person raft ride (also available at Woburn Forest and Elveden Forest) with added audio-visual themes to choose from or try Typhoon, a one or two-person ride with an exciting personalised lighting element to enhance the fast-paced drops and swings.
For little ones, the pirate-themed Venture Bay features warm shallow pools, fountains, games and smaller slides. Venture Harbour is a family water play area that's perfect for slightly older children, with slides, splashes and tipping buckets.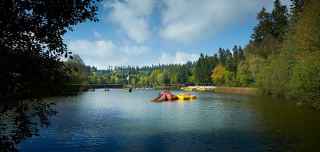 Minimising traffic on the village - Updated 28th March 2017
We know that our focus on providing a safe environment with minimal traffic is something you really value. That's why we need your help to reduce the traffic on our villages to protect what you love about Center Parcs: a place where little ones can run free and explore, and parents can feel at ease.
STA Swim Pups - Updated 7th August 2017
Unique to Center Parcs, STA Swim Pups is a new water activity designed for little ones aged 3 months to 4 years. The activity involves a structured swimming programme for mini swimmers to gain essential swimming and movement skills in a fun and exciting environment, through a series of enjoyable and stimulating games. Your little ones can cycle around the pool on a float, canoe on a pool raft and take part in an aquatic nature trail. As recognition of their achievement, they will be awarded with an STA certificate to take home.

Available at Whinfell Forest and Sherwood Forest. Coming soon to Elveden Forest, Woburn Forest and Longleat Forest.
Foresters' Inn comes to Longleat Forest - 3rd August 2017
It's all change for our restaurant scene at Longleat Forest. After introducing Las Iguanas last year, we're now welcoming Foresters' Inn to the Village Square. Foresters' Inn is a contemporary pub and restaurant offering British classics from breakfast through dinner – including afternoon tea, of course.

Foresters' Inn replaces Grand Café, which will close permanently on 4th September and re-open as Foresters' Inn approximately six weeks later. An exact date for the re-opening will be communicated closer to the time.
Mermaids and Sharks at Center Parcs - 28th July 2017
Water lovers can become a magical mermaid or stealthy shark in our new swimming activity that's out of this world! Wearing a special swimming tail 6-12 year olds learn how to kick, twist and glide their way around the shallows of our Subtropical Swimming Paradise, diving for treasure on the 'ocean floor'.
Sign in to your Center Parcs account or Register today and add activities to your existing booking*. Alternatively, book your accommodation now to start your next Center Parcs adventure.
We're serving up a new menu at Sports Café - 27th January 2017
It's the hub of the Village and is open every day 8:30am-10:30pm, serving food all day to satisfy your appetite for delicious dishes and live sports.

Over the past few months we've been working hard to create an exciting new menu. From brilliant breakfasts to mouth-watering mains, as well as a range of delicious drinks including craft beers and artisanal teas, we're sure there's something you'll love. We've also introduced gluten-free, lactose-free, dairy-free, and vegan and vegetarian menus so the whole family can enjoy the Sports Café experience.

Available from Friday 27th January at all our Villages, head over to Sports Café and try out our exciting new menu.
Renumbering project at Longleat Forest - 26th January 2017
To accommodate six new Executive Lodges that are being built on our Village, 23 of our current Lodges are going to be renumbered.

From 6 February, if you notice the number of your Lodge has changed then please note this is due to our renumbering project. Don't worry – the Lodge type and location will not have changed.
Las Iguanas opens at Longleat Forest - 18th October 2016
The fiesta has arrived at Longleat Forest with Las Iguanas opening its doors for the first time today. Open for lunch and dinner, Las Iguanas will be serving up fresh, authentic Latin American food and drinks seven days a week. From Mexican favourites to fiery Brazilian dishes and featuring a fun yet familiar children's menu, it's the new place to be on the Village. 

You can find Las Iguanas in the Plaza, where Café Rouge used to be (don't worry, Café Rouge is still in the Plaza too, in place of Hawtons Bar and Restaurant).

Find out more about Las Iguanas at Longleat Forest and discover the exciting menu.
*available when break booked is 26 weeks or fewer away.