Woburn Forest news
Woburn Forest important updates and latest news.
Latest update – 9th November 2020
Following the government announcement on Saturday 31st October all our UK villages are closed until at least Thursday 3rd December. We continue to support government advice with our priority being the safety and wellbeing of our staff and guests.

Guests due to arrive on or before 30th November

All guests impacted by the closure period, breaks due to arrive 6th November to 30th November, have the option to change dates with £100 discount or claim a full refund. We have now emailed all affected guests with instructions on how to cancel activities and restaurants and how to reschedule or cancel. Once your activities, restaurants etc are fully cancelled please complete this form.
Please do not contact us to allow us to help guests with imminent breaks, we promise to be in touch very soon.
All other guests
We understand that guests with breaks beyond the closure period and new guests looking to make a booking will have questions too.  We are asking all existing and potential guests to check government information themselves to understand any changes or new rules prior to visiting Center Parcs, booking a new break or when considering a date change or cancellation of an existing booking.
The following links should provide the most up to date information:

You must check guidelines for your home area and the village you're visiting and comply with both sets of rules.

https://www.gov.uk/coronavirus
https://www.gov.uk/guidance/local-covid-alert-levels-what-you-need-to-know#local-covid-alert-level-high
https://www.gov.scot/publications/coronavirus-covid-19-protection-levels/
https://gov.wales/coronavirus-firebreak-frequently-asked-questions
Wild Water Rapids temporary closure - 16th October 2020
The Wild Water Rapids at Woburn Forest will be closed on Monday 9th and Tuesday 10th November to carry out essential maintenance work. The rides and slides will still be open as normal, so make a splash and head into the Subtropical Swimming Paradise. 
Lake closure - 29th September 2020
We are doing some essential maintenance to our lake from Thursday 1st October 2020 to Friday 2nd October 2020 which means it will be closed to our guests. But you can still head down to our beach to feel the sand between your toes, relax and take in the picturesque views.
Tropical Cyclone closing for essential maintenance - 15th September 2020
Tropical Cyclone within the Subtropical Swimming Paradise will be closed for essential maintenance work between Monday 21st September – Friday 2nd October inclusive. Please don't worry if you're due to visit during this time as we have lots of other rides and slides to keep you busy.
The Canopy Café and Bar has arrived at Woburn Forest - 9th September 2020
New to Woburn Forest, The Canopy Café and Bar is now open inside our Subtropical Swimming Paradise. You'll find a great range of hot and cold drinks, crisps and ice creams to enjoy. We won't be serving hot food just yet but keep an eye out for any updates on when the full menu will be available on village news and our social media channels.
Our retail shops - 4th September 2020
Like many businesses, our retail partner has been severely affected by the pandemic. As a result, they have decided to no longer operate in the fashion sector, which sadly means that they will be closing some of their stores on our villages. Aquatique, Just for Kids and The Store Room will remain open, but unfortunately, Spirit, Sportique and Time for Shade will all close by October, with some closing as soon as Sunday 6th September. We know these stores are firm favourites with our guests and we are working hard to look at new and exciting alternatives to add to our retail offering.
Flitwick Station shuttle bus - 18th August 2020
Due to COVID-19, we are unable to run our usual complimentary guest shuttle bus from Flitwick Station to Woburn Forest. Guests travelling by train can book a taxi to the village at a special discounted rate from A1 Station Taxis, who can be contacted on 01525 757575. If you have further queries, please call Guest Services on 01525 842855.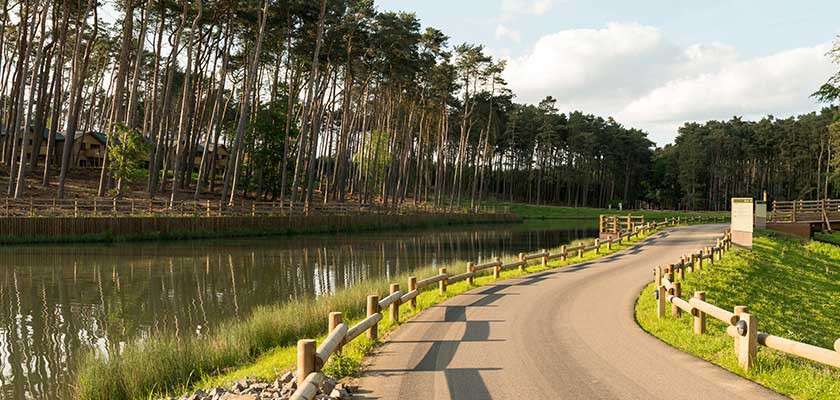 Forest safety - 7th August 2020
During extreme dry weather spells we take advice from the Met Office, please see below some basic fire safety points:
Smoking is permitted only in designated smoking locations on village and on the patio/ balcony of accommodation
The use of wood from the forest is strictly prohibited for use on the fire in accommodation (please only use logs purchased from ParcMarket)
The making of fires of any sort is strictly prohibited
Should you discover a fire no matter how small, please contact the village emergency number or call 999
Due to our forest environment we may need to withdraw the use of BBQ's in extreme hot weather
We do have regular fire checks in place but please be vigilant and help us to maintain a safe environment in the forest.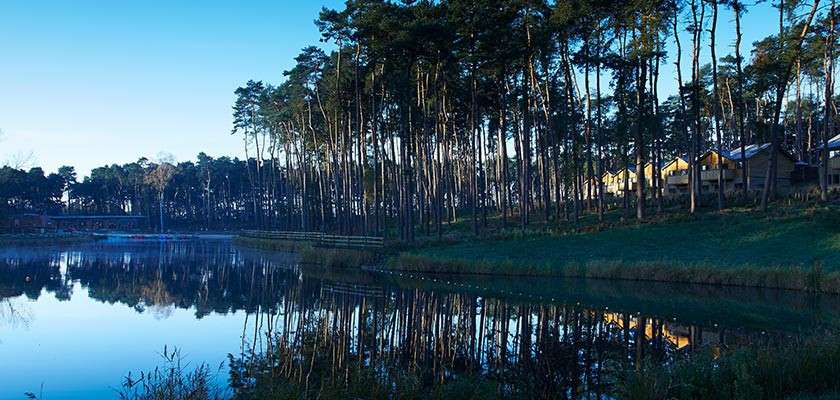 Cycle Path development - updated July 2020
The cycle path from Woburn Forest to Flitwick was completed on 3rd July 2020. We are working in collaboration with Central Bedfordshire Council on this project and our plan is to continue the path all the way to Flitwick Train Station. Once completed, we hope that the path will provide a safe route for everyone to enjoy.
Lake closures on our villages - 2nd September 2019
As we operate a number of submersible activities on the lakes at our villages, we test our lake water for quality on a regular basis. Due to natural organisms, we occasionally receive a reading that means we have to close our lake whilst we treat the issue and gain a normal reading again. Should this happen we will ensure that guest disruption is kept to a minmum and that we bring activities back online as soon as we possibly can.
A unique escape room experience is coming to Woburn Forest - 8th August 2019
Assemble your team and embark on a new adventure with Escape the Forest, arriving at Woburn Forest this October. With two different experiences to choose from, you'll solve riddles and find keys in an attempt to locate hidden treasure and escape in time.
Our first 6 bedroom Woodland Lodges at Woburn Forest - updated 25th June 2019

Woburn Forest is welcoming two 6-bedroom Woodland Lodges that sleep up to 12. They have all the features you love in our popular Woodland Lodges, but with six spacious bedrooms and four bathrooms. There will also be a 6 bedroom Adapted Woodland Lodge available, including an electric bed and bathroom with walk-in/wheel-in showers. Now available to book for breaks arriving from 26th August 2019.
Aqua Sana Woburn Forest named Best Day Spa in county - 7th June 2019
Aqua Sana Woburn Forest has been voted the Best Day Spa in Bedfordshire and Hertfordshire in the Muddy Stiletto Awards 2019.
Leon's new breakfast menu - 20th May 2019
Breakfast is now available at Leon from 9am to 11am every day. Packed with goodness, using only free-range eggs, you can choose from:
The Big Breakfast Box filled with gluten-free sausage, bacon, two poached eggs, sliced avocado, beans and grilled mushrooms (veggie option also now available – breakfast of champs)        
Range of healthy egg pots, our favourite being the full English pot filled with a poached egg topped with Cumberland sausage, British back bacon and saucy beans
Breakfast Muffins & Egg pots available with a small cup of coffee or tea for £4.45
Accommodation number changes – why is it happening? - 12th March 2019
Whilst we work on creating some exciting new lodges on our village, you'll notice we've renumbered some of our existing accommodation.
If you are visiting Woburn Forest from 15th March, you may notice your accommodation number is different to the one you received in your pre-arrival confirmation, but don't worry the accommodation you've booked will still be the same type – all that's changed is the number.

Our new accommodation, available from summer 2019, includes our first 6 bedroom Adapted Woodland Lodge. It has all the features you love in our popular Woodland Lodges, but with six spacious bedrooms, including an electric bed and bathroom with walk-in/wheel-in showers.

New fun-filled activities for little ones - 28th January 2019
Discover three new activities for your little ones to enjoy. Make memories that will last forever as you forage through the forest to create your very own Family Nature Journal, or help our rangers discover woodland animals and their habitats in Nature Detectives, both at the Ranger's Lodge. Your little ones can also have an adventure of their very own in Wizard Academy, where they can learn spells, play games and make marvellous wizard crafts in this this 3-hour unaccompanied session at the Activity Den.
Treehouses now available to book - Updated 10th April 2018
The new Treehouses at Woburn Forest are now available to book for breaks from July 2018. This spectacular new accommodation includes our first ever adapted Treehouse. Each Treehouse includes four en-suite bedrooms, detached games den, beautifully styled open-plan living and outdoor hot tub.
If you want to join us for a luxury break in your own Treehouse from July 2018 onwards, be sure to book early to avoid disappointment.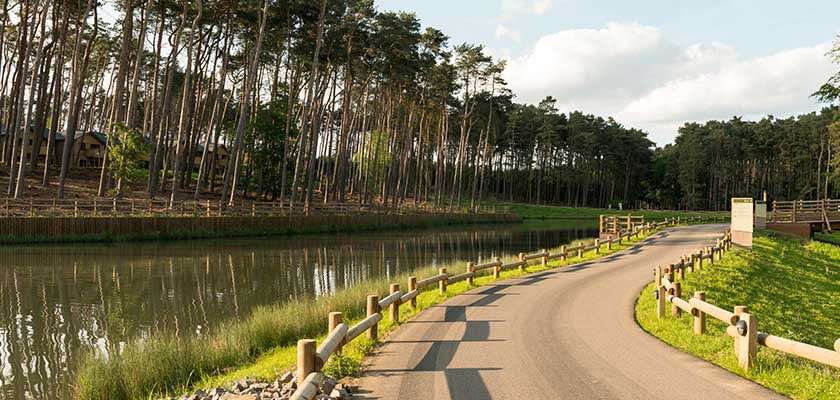 Minimising traffic on the village 
We know that our focus on providing a safe environment with minimal traffic is something you really value. That's why we need your help to reduce the traffic on our villages to protect what you love about Center Parcs: a place where little ones can run free and explore, and parents can feel at ease.
*available when break booked is 26 weeks or fewer away.