Family holidays and breaks in Ireland
Get ready to discover your new favourite family holiday at Center Parcs UK and Ireland.
From short weekend breaks to fun-filled seven night stays, action-packed adventures to relaxing luxury getaways, there's something for every family and every generation. Spend quality time with your loved ones, explore the forest together, try new and exciting activities, get up close with wildlife or simply sit back, relax and take in the scenic views.
Find out more about Center Parcs family holidays in Ireland below.
Take a closer look at family breaks 
Why family holidays are important
Escape the everyday and enjoy fun family time in the forest. Whether you're trying indoor and outdoor activities together, soaking in your hot tub or simply wandering through the woodland, there are hundreds of ways to enjoy special moments together as a family. Enjoy fun family breaks that feel miles away from home - without the need for a plane ticket.
Plan your next family break
Discover exciting family breaks in the forest all year round. From sunny summer holidays to magical winter experiences and everything in between, Center Parcs is the perfect place for a fun-filled family holiday - whatever the season and whatever the weather.
Choose the right accommodation for your family
We have a wide range of accommodation types suitable for all needs, preferences and sizes. From family favourite Woodland Lodges to stylish and luxurious Executive and Exclusive lodges all the way up to our extraordinary Treehouses, you're sure to find the perfect place to stay. 
Sleeps up to 8 guests
Woodland lodges
Practical and popular
Fully-equipped and family-friendly
Modern kitchen
Open-plan living area
Your own private patio
Get some well-earned rest in the comfortable bedrooms
Sleeps up to 8 guests
Executive lodges
Everything that's included in a Woodland Lodge and more
TV and ensuite in all bedrooms
Some Executive Lodges even have their own private sauna
Sleeps up to 8 guests
Exclusive lodges
Our Exclusive Lodges are finished to the highest standard, but perfect for family fun
Games room with pool table
En-suite bedrooms
Your own sauna, steam room and outdoor hot tub
Sleeps up to 12 guests
6-bedroom Woodland lodges
Our only accommodation to sleep up to 12 guests
Open plan living area
Fully equipped and family friendly
Modern kitchen with an American style fridge freezer
Luxurious outdoor seating
Luxury family breaks
For an extra special break, take a look at our luxury accommodation types. Kick back in your private sauna or outdoor hot tub, or get competitive in your very own games room - giving you the perfect place to relax, unwind and spend fun family time together.   
Explore our range of family activities
Discover a vast range of family activities for all ages at Center Parcs, with plenty of opportunities to try something new and spend some all-important time together on our family activity breaks. You can take your pick from hundreds of indoor, outdoor and watersports experiences, from adrenaline-fuelled thrills to calm and creative activities.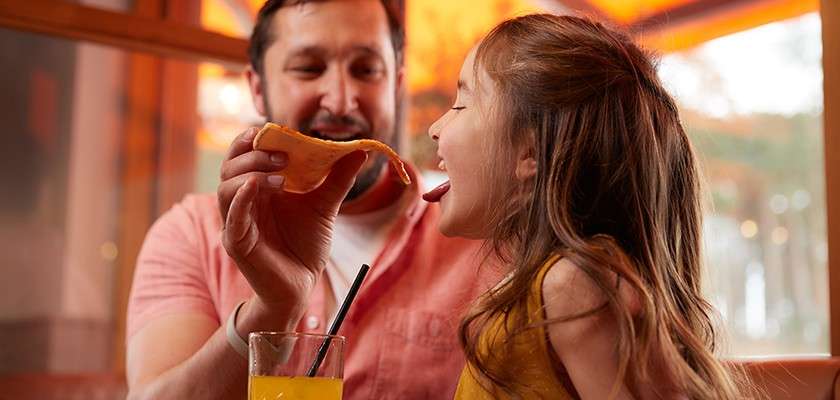 Family-friendly restaurants
We have a range of relaxed restaurants designed with families in mind. From Indian to Italian and pancakes to pub classics, all of our restaurants have special menus for little ones, and many of them feature soft play or outdoor play areas to keep them entertained during your visit. And if you'd prefer a quiet night in together, you can enjoy restaurant food in the comfort of your lodge with our delivery service.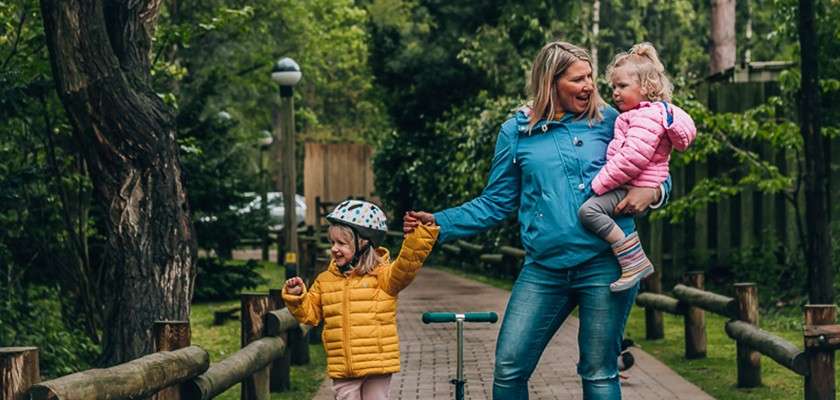 "For any family looking for a mini adventure away or an easy break, Center Parcs should be on your radar. It's suitable for children of all ages."
Instagram: @herewegoagain.blog 
Want to see more?
Get ready for your break
Once you've booked your break at Center Parcs you can start to pre-book activities, make restaurant reservations and order essentials to your lodge online 12 weeks before your arrival date, allowing you to really make the most of your short break in the forest and ensure that you don't miss out.