Activity holiday breaks in Ireland
Whether you're going on a short break, weekend break or midweek break, make sure it's adventure packed and try one of our up to 100 indoor and outdoor activities! From some family competition with nine holes of Adventure Golf, to unleashing your creative side in the Cupcake Decorating Workshop, there's something for everyone to try with a family activity break at Center Parcs.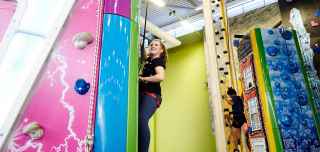 Activity holidays
It's up to you whether you take it slow or fill your days with activities. If the sun is shining, you could take a boat onto the lake or try one of our exciting water sport activities, head up into the trees with our Aerial Adventure or get your pulse racing with a Segway Experience. And if the rain comes, head indoors and try one of our indoor activities like Badminton, Indoor Climbing Adventure or Pottery Painting – the possibilities are endless.
We offer activities for all ages, so the whole family will enjoy their UK or Ireland holiday. We also have a Creche if you want to take on an adult activity and ensure the little ones are entertained at the same time.
You'll find plenty of entertainment for toddlers at the Activity Den
Older children and teenagers will love the exciting and adrenaline-fuelled activities in our Outdoor Activity Centre
If your children are looking to relax and get creative, calming activities such as Pottery Painting or Chocolate Chefs Academy are the ideal pastime 
Family adventures – like Den Building and Decorating – are perfect for bringing the whole family together for some quality time 
Get ready for your forest holiday
Before you arrive at Center Parcs you can pre-book activities, make restaurant reservations and order online essentials including groceries to your Lodge, allowing you to really make the most of your short break.
*with a break booked that is 26 weeks or fewer away.