Book with confidence Guarantee - Ireland
In these uncertain times, we understand the importance of having something to look forward to for you and your family, but we also know that you need to be confident that your money and your plans are protected.  Center Parcs have taken all necessary measures to adhere to government regulations and advice and to help keep all of our guests and staff safe.  You will have the space, the options and the service of our resort teams to help you have a great break.
View our UK villages book with confidence guarantee here.
We hope that the flexibility and assurance below gives you the confidence to start counting down to a break at Center Parcs: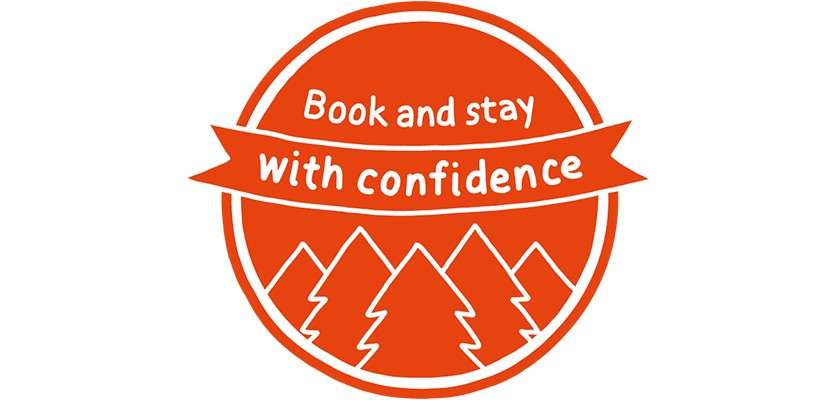 No quibble date moves or refunds.  We're pleased to offer free cancellation and a full refund or you may move your break to a date in the future with no amendment fee within 10 weeks of your arrival on village if your arrival date is before the end of December, or within 6 weeks of your arrival date for all breaks after that, in all the instances detailed below. Simply complete this form** and we will process the change as soon as we can:


If we cancel your break, or you are personally impacted by COVID-19 or by related Government restrictions.
If you're unwell with COVID-19 symptoms and/or have a confirmed case or if you're required to isolate, please do not visit our villages.
If you're not comfortable with our COVID-19 changes or the facilities you were expecting aren't available - we'll email you around 4 weeks before your break with information about what facilities you can expect.
If you simply change your mind

Please help us to help all of us stay safe. Please remember to keep updated with your home area government guidance as well as for the Center Parcs resort you are travelling to. It is necessary that you follow all restrictions applying in both locations. Please do expect to be challenged by our resort teams if you are contravening guidelines and please respect and understand that is their responsibility by law.
International arrivals. All guests arriving in Ireland from non-Green listed countries, which currently includes the UK, are required to restrict their movement for 14 days on entry into Ireland. For the latest information please check the Irish government COVID-19 Green List. You cannot use Center Parcs as a quarantine location and you must complete any quarantine requirements prior to your planned break.
** Please ensure any activities, restaurant, spa sessions or treatments are cancelled prior to filling out the form

Your responsibility. Please keep updated with your local area government guidance as well as advice around Longford Forest and abide by any restrictions imposed and please do keep to social distancing guidelines and remember your face coverings.
The Rule of 6 is law in Ireland. It is against the law in Ireland to have a group larger than 6 people, from more than three households meet in a restaurant setting and groups must not exceed 1 hour 45 minutes dwell time in our restaurants.  If you are a party larger than 6, please prepare to be questioned by our team on arrival or during your break. Center Parcs are legally required to enforce the Rule of 6, both in terms of staying in a lodge and in mingling/socialising around the resort.
Arrival and Departure times. You can arrive on our resort from 2pm, with access to your accommodation available from 4pm. We ask that you depart your accommodation no later than 10am, and you must leave the resort by 1pm.
Face covers. Wearing a face covering in indoor areas throughout our resort is compulsory by law. Please bring a face covering with you for use during your break.
Hand Sanitiser. We've provided numerous sanitiser stations throughout our resort, which should be used by all guests frequently.
Feeling unwell. If you or a member of your party is feeling unwell or showing any symptoms of COVID-19, we ask that you do not visit our villages. If you feel unwell when on village please stay in your lodge or return to your lodge and contact Guest Services via phone.   Guest Services will advise you what to do next.  
Center Parcs is playing its part in keeping us all safe on our villages. Failure to comply with these guidelines may result in you being asked to leave the resort.
Social Distancing
More space. We have limited numbers of guests on our resort as a whole and on all activities and in our restaurants and shops.
Keep your distance. Please keep a safe, social distance of 2m where possible from other guests when you are exploring the resort. When serving and interacting with our guests, our colleagues will also maintain social distancing wherever possible.
Extra measures. Where social distancing is not possible, such as at reception desks or till points, our colleagues will serve you from behind Perspex screens or will be provided with the appropriate equipment, including face coverings and sometimes visors too, in line with government guidance.
Signage and Guidance
Watch out for Orange. You'll spot orange signage around the resort, informing you of the safety measures in place.
One way systems. Some areas may be operating one way systems to accommodate social distancing, please adhere to this signage where indicated.
Keeping numbers safe. Some areas may have reduced capacity which will be indicated by our signage. Please do not exceed any capacity restrictions in areas where this is required.
On hand to help. If you need any extra guidance, our Social Distancing Champions will be on hand to help and advise. They will be wearing orange tops so they are easily identified.
Enhanced Cleaning
Extra cleaning. Our teams have undergone advanced training to enhance our tried and tested cleaning processes; additional cleaning is being undertaken, with particular attention paid to our accommodation and high touch points in general areas around the resort.
Cashless Payments
Easy payment. Payments must be made via either Google Pay or Apple Pay, or contactless payments which have increased to €50. For payments exceeding these amounts you can make payment via chip and pin.
No cashpoints. Cashpoints will not be available during your break.
Changes to our activities and restaurants
Pre booking is compulsory for all activities and restaurant reservations
Activities
All activities must be pre-booked in advance via our website, as Booking Desks on resort will be closed. 
For some activities, group bookings larger than 6 are not currently accepted.
For some activity bookings a face covering may be required for those aged 13 years and over:

All participants 13 years and over will need to wear a face covering throughout this session:
All participants aged 13 years or over will need to wear a face covering at the beginning of these session:

Aerial Adventure
Aerial Tree Trekking

Outdoor play areas are available, but a responsible adult must supervise children when using this area and ensure hand sanitiser is applied before entering the play area.
Restaurants
Tables of more than six guests are not currently allowed in our restaurants, and must be from no more than 3 separate households, with booking durations lasting no longer than 1 hour and 45 minutes and Reservations will be on a pre-bookable basis only.
Our indoor soft play areas in some selected restaurants are currently closed in line with government guidelines.
Lodge Meal Delivery Service - we are also offering delivery services to your lodge; meals can be pre-ordered through our website.
Subtropical Swimming Paradise
Will be available on a pre-bookable basis, with each accommodation booking being permitted two slots* which will last 2 hours per break. As capacity is limited you may not get your first choice of session.
For your safety, there will be temperature monitoring for all guests on arrival at the pool.  Anyone with an elevated temperature will not be allowed into the pool.
Changing rooms are available but to speed things up and reduce social distancing concerns, guests must arrive at the swimming pool with swimwear on underneath their clothing 15 minutes before their booked session time and be aware that showering facilities are not currently available.  You will be able to use changing rooms again, to dry and dress after your swim.
No items may be taken into the pool area and all belongings must be left in lockers, so only bring the essential items you require with you when visiting the pool.
*1 slot lasting 2 hours for a 2-night break